* Mentioned prices may vary depending upon date of travel, hotel availability, surge pricing and seasonal rush.
Welcome to this dazzling city and kickstart your magnificent Dubai holiday with a lavish cruise!
Upon your arrival in Dubai, an agent's representative will receive you at the airport and drop you at your hotel. Once you reach your hotel, complete your hassle-free registration formalities. Proceed to your room and have some rest.
The first day of your Dubai holiday includes a lavish dinner over the traditional Dhow Cruise. Sail across the Dubai Creek and gorge on a mouth-watering buffet dinner.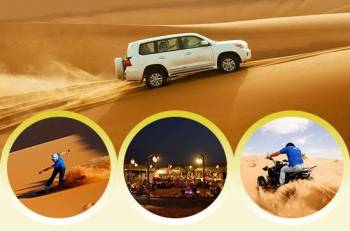 After breakfast proceed for a panoramic half day city tour of Dubai. You will drive through Jumeirah Mosque, Bastakiya square, front of the Atlantis (stop for photos), the Gold Souk (stop not included) and the Spice Souk (stop not included), where you can shop as much as you want. Your last stop will be the Dubai Mall where you can spend some time going through all the shops. In the evening take a thrilling ride through the deserts. Relish authentic Arabic cuisine. Be spellbound by the enthralling performances by exotic dancers. Watch the stars blinking at you in the wildness of the desert. All this and more for the tourist. Trip to the desert is full of Fun and adventure. Return back to your hotel for overnight stay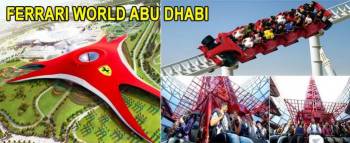 Proceed for full day tour of Abu Dhabi with Ferrari Theme Park. We start our Abu Dhbai City tour in the morning and our journey will start from Dubai will take you past the Jebel Ali Port, the largest man-made port in the entire world on the road to Abu Dhabi. On arrival at Abu Dhabi head to the Sheikh Zayed Grand Mosque, to admire the white marble courtyards and prayer rooms of this vast, modern masterpiece. Please ensure proper dress code while visiting. In the afternoon visit Ferrari World. Ferrari World is Situated on the Yas island, FWAD has a surface area of 200,000 square meters, all under cover, which makes it the biggest indoor park in the world. There are over 20 attractions for visitors to enjoy, from the must futuristic such as Formula Rossa, the worlds fastest rollercoaster, which can accelerate its cars from 0 to 240 kmh in the same time as a Formula 1 car, to the four dimensional Speed of Magic. Return back to hotel in the evening for overnight stay.
Useful Tips Before Booking If the stay is outside city area, there will be extra charges applicable for both private and shared transfers. These charges have to be paid directly before boarding the vehicle. Private Transfers doesn't imply that the Vehicle is on Disposal. The vehicle will only pick you and drop you at the attraction at specified timings. Maximum waiting time in private tours/transfers is 30 minutes from the time of pickup. If you are found at the pickup point within time, it will be considered a No Show. Seat in coach (SIC) transfers implies that transfers will be in a shared bus which will have other co-passengers. You are requested to be at the place of pick up / hotel lobby at least 5 minutes before pickup time. Sometime you may have to wait for a period of about 30-45 minutes depending upon traffic, location of the hotel on the route and picking up of other guests. The pickup timings for shared (SIC) transfers are subject to change (prepone or postpone) based on your hotel location and the route of the pickup vehicle. Any change will be intimated by message on Telegram app. Maximum waiting time in shared (SIC) pickups is 5 minutes. The guide/driver will look for you in the lobby, concierge area or call the hotel room. If no answer is received from room, the guide/driver will leave after waiting for 5 minutes and it will be considered a No Show. Tourism Dirham Fee is 10 AED (3*), 15 AED (4*) and 20 AED (5*) per room per night which needs to be paid at time of check-in or check-out (as per hotel policy). For UAE/Dubai Visa, children visas will not be approved, unless parents visa is attached along with. Kindly apply for parents visas first. Upon approval of the same, please proceed to apply for the child visa. Carrying alcohol in vehicle or while on tour is not allowed. There is heavy fine of AED 50,000 if caught. For any change in pickup timing of private tours/transfers, request has to be made at least 24 hours in advance in the Telegram app. Any request for last minute changes would not be considered. Check-in time in Dubai is 2 pm. You may need to wait if you reach early as early check-in is not guaranteed. All tours and transfers are on SIC (Seat in Coach basis) unless converted to Private. Tours may include multiple pickup points (4-5 hotels) for other passengers. If you are traveling with elderly people or infants or pregnant women, then Desert Safari is not advisable for you. You can opt for desert safari without dune bashing in that case. Room sizes in following hotels are small e.g. City Max (215 sq ft), Panorama Grand (200 sq ft), Howard Johnson (260 sq ft), City Season Towers (240 sq ft). Opt for apartments or 4 star hotels to get larger rooms. In case you are opting for Dhow Cruise or Desert Safari with Dinner, the food quality on the Cruise or Desert Safari may not be good and you may not like it. All Dubai Hotels charge Tourism Fee in AED, which needs to be paid at the time of check-in or check-out from the hotel. While visiting Abu Dhabi Grand Mosque all travelers need to follow dress code. Long, loose fitting, ankle length trousers or skirts for women and men. Women must wear a headscarf. Top of Burj Khalifa Tickets are booked at fixed time slots and once issued cannot be cancelled or changed or refunded.