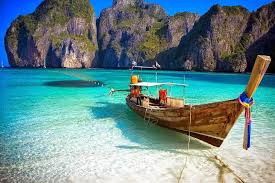 Any Bangkok Pattaya Phuket tour package can offer you quite islands, untouched beaches, luminous temples and exhilarating nightlife. Visiting Thailand, you are keen to enjoy a thrilling experine that every holidaymaker cherishes for! If you are a first timer to visit the land of Thailand, getting tour package could be a smart decision as most of them are designed beautifully to offer a safe and unparalleled travel experience for all the travellers.

Why should you plan to visit Bangkok, Pattaya & Phuket?

Bangkok, Pattaya & Phuket are three pillars for the Thailand tourism which are the most frequently visited spots by the global tourists. This country is known for spoiling its tourists with plenty of attractions. A few of the major attractions of Bangkok, Pattaya & Phuket include Nong Nooch Village, Jomtien Beach, Ripley's Believe It Or Not, South Pattaya's Walking Street, Khao Kheow Open Zoo And Underwater World. The common attractions remain in enjoying the delightful nightlife, adventure and water sports, cultural programs and secluded beached and islands.

Best time to visit:

Thailand remains at its best mood for the visitors between November and February. Weather remains amusing this time. So, when you are thinking to plan a visit here remember to book a Bangkok Pattaya Phuket tour package during this season of the year for acquiring the best travel experience. But monsoons are also good in Thailand. But not perfect time to trek or hike here.

Popular tourist attractions:

Don't worry, whether you are going on a private trip or through a travel agent, there are a lot of opportunities waiting for you to explore the attractive tourist sites here that includes the list of religious shrines, museums, historical spots, beaches, lakes, hills, national parks and shopping destinations. Here is a glance on the visit list –

Jomtien beach

Angthong marine park

Phuket fantasia

Madam tussauds, etc.

Top things to do:

Thailand is a joyful, energetic and lively country which is famous for a number of exciting attractions. Here is a must do list for you –

Safari world zoo – A visit is must to the safari world zoo which is divide into two halves - one includes the safari tour through the natural habitat of wild animals where they roam freely, and another one is the exotic marine park including the famous dolphin show.

Thai massage (mandatory!) – you are visiting Thailand and returning from without having a Thai massage is not at all accepted! Your trip is going to remain incomplete with this enchanting and rejuvenating experience of Thai massages.

River cruise – Bangkok is known for its glamour and city life. A river cruise tour can earn you the spectacular views of the pristine beaches and lit skyscrapers.

People often remain in a dilemma before booking a tour package as they do not want to miss any of the adrenaline pumping activities out there in Thailand. But for your information, you can choose to include them in your Bangkok Pattaya Phuket tour package to have a memorable tour with your loved ones.